Dental practices are, or at least should be, on a constant search for new patients.
There is a natural attrition that needs to be compensated for. Patients move out of the area, prefer the service of another dental practice and, sadly, pass away.
But beware! There are four key times you may lose the valuable opportunities that these new patients are for you!
Growth Stopper #1
FIRST CONTACT
How many new callers contact your practice? Why do they call? Are they converted to an appointment? If they are not, why?
Your best efforts in attracting new patients are wasted if you lose them on the initial phone-call. Provide opportunities for your receptionist to gain training, so they can develop their skills and become an expert.
Tracking these calls with a simple log will guide your reception team in how to manage new callers and their queries in such a way they, and you, see consistent improvement in their call conversion rate.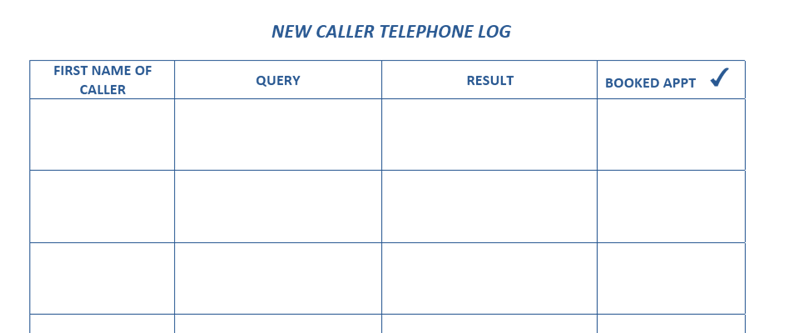 Growth Stopper #2
THE NON-CLINICAL EXPERIENCE
Once you successfully get the new patient into your practice, it is your team's time to shine. It is your team's high standard of customer service and care that will give your new patients the reasons to consistently choose your practice over others.
There are many training consultants and organisations that provide teams with knowledge and skills in delivering higher customer service.
Gauge your team's success by having a mystery shopper visit your practice and provide feedback. You can survey a selection of recent new patients to ensure they are being 'wowed' by the service.
Growth Stopper #3
THE CLINICAL EXPERIENCE
Patients will tolerate many things if they have developed a high degree of trust in the practitioner. Ensure all providers are trained in rapport building, communication skills and understand how to establish authority in the surgery.
Growth Stopper #4
FOLLOW-UP
Follow-up is how the next appointment is made after treatment, how the patient is recalled and how your practice communicates with your patients in between visits.
Developing deeper engagement with the patient is the key to their loyalty.
Take the time to consider what your patients need to continue their relationship with your practice.
Dental practitioners acknowledge the importance of continuing education. Training plus practice and experience is the path to continual improvement and mastery.
If you want to grow your practice, provide training for the whole team so everyone is consistently improving, and you are converting the Growth Stoppers into Growth Accelerators!