I had a visit with a new hairdresser last week, and I want to recommend them!
I am recommending a particular system they have.
I was happy with every step of my experience with this new hairdresser. The initial phone call to book the appointment, the welcome with an offering of tea or coffee, the lovely manner of the hairdresser who cut my hair, the upbeat ambience of their team. It was an enjoyable visit.
At the end of my visit, I paid and thanked them for a great experience. It was at this point they asked for my referrals.
My hairdresser, Renee, wrote my name on a card and handed it to me. She said, "I am thrilled you enjoyed your visit. I'd like to offer you a voucher for next time." The card stated I would receive $20 off my next service should I refer someone I know.
Renee's timing was perfect. She asked for the referral when I was happy and satisfied with the service I had received. She then handed me a method for getting that referral for them.
Many dental business consultants suggest that referrals are the best way to build a healthy patient base. And I am one of them.
I love that there are so many online strategies for dental practices to promote their services to the public. Facebook advertising, SEO and Google Adwords can generate high numbers of new callers to your practice. And, if you have a skilled receptionist on the front desk fielding these calls, many will be converted to appointments in your book.
However, when I conduct a Patient Base Analysis for a practice, it is the referral sources that attract regular and long-term patients that are most effective.
Patient Base Analysis involves categorising patients into 'emergency', 'loyal' and 'enduring'. See below: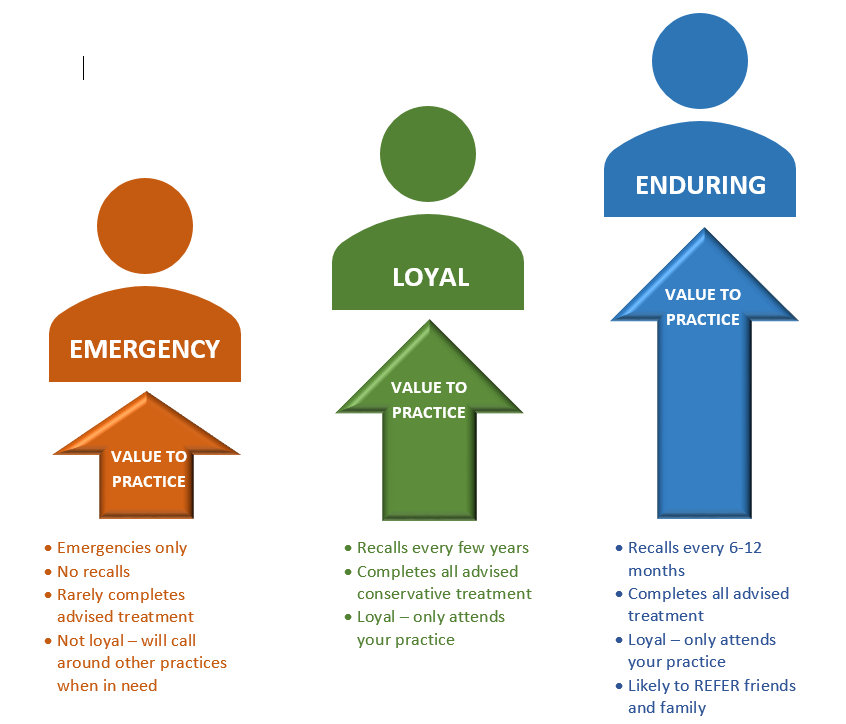 It makes sense to adapt your marketing to methods that attract high-value new patients to your practice. Maintaining practice viability is difficult with a patient base made up of 'emergency' patients.
Long-term practice growth occurs when you focus your new patient generation efforts towards attracting 'loyal' and 'enduring' patients.  These patients are regular and loyal and strengthen your practice. And the way to get these patients is by tapping into the power of your existing patients who are happy and satisfied with your service.
Are you asking for referrals yet?