Yes! I am delivering a week of, what I consider to be, GOLD!
I am always on the lookout for computer applications that I can use to make my work:
more creative
more efficient
more productive, and
more enjoyable.
I know that some of the apps I have discovered will make YOUR life better too. So, this week I will be detailing one helpful, GOLDEN app a day! It will be a golden week!
GOLDEN APP #3
Evernote is a note-organising app. Here is why I advise my clients to use it instead of a traditional hard-copy Practice Manual.
Physical Practice Manuals, once established, rarely get updated with the modification and introduction of systems, procedures and policies. It is often stored away and forgotten.
Evernote transforms your Practice Manual into something that is easy to access, modify and search for needed information. You can enter links to other websites, data and live documents so you always have updated information. The whole team can be kept informed of any changes to the systems of your practice.
Evernote is like a library. It is a series of books ('Notebooks') that hold pages ('Notes').
To give you an example, the following images are taken from the Evernote content that JPPS issue to its clients.
The Notebooks cover each key area of your practice, such as Clinical, Infection Control, Human Resources and Team Training.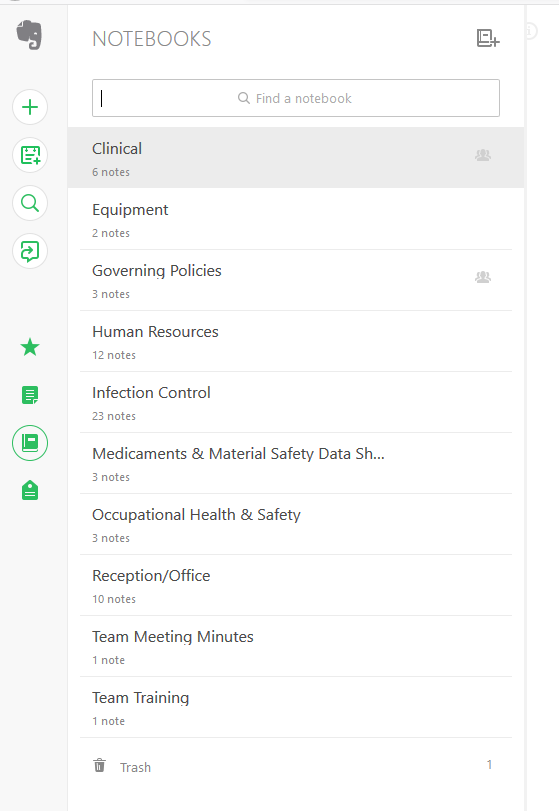 The Notes you include within each of the Notebooks can be:
Standard Operating Procedures
Official guidelines
Instructions for use for materials and equipment
Images, videos, text and links to external websites
Your practice policies, templates and codes of conduct
Because Evernote is cloud-based, any member of your team can access it wherever there is internet coverage. There is also a desktop version so if you do not have internet access, you can still see what has already been constructed.
Your team will easily find standard procedures by conducting a 'search' and finding all documents with the matching word/s. You can also attach tags to your content for even easier tracking.
Training of new staff is made easier by providing them with your ever-growing Team Training Notebook. This may house images, text and video of how certain dental procedures are done, what items to prepare for a procedure and videos you may have made displaying how to welcome a patient in to the surgery.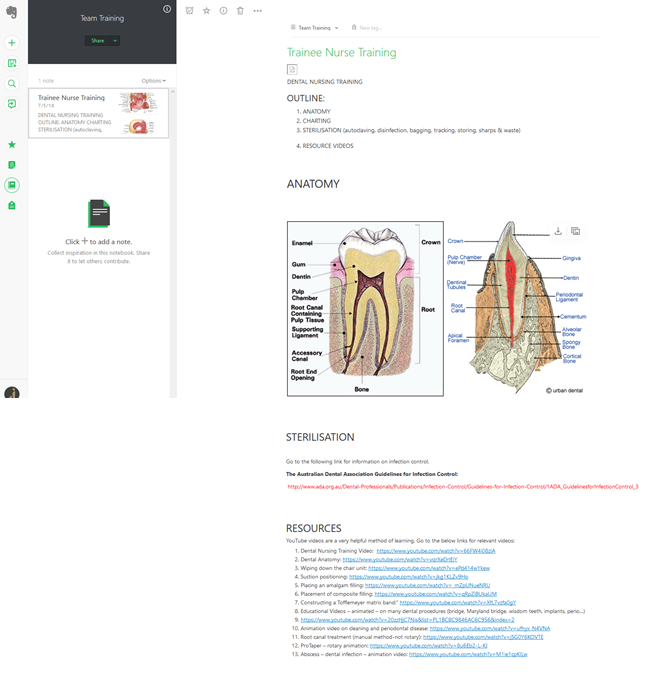 Keeping track of your Team Meetings is made easy with everyone being able to post agenda items for upcoming meetings. The Minutes can then be entered afterwards, with a copy being emailed directly to each team member.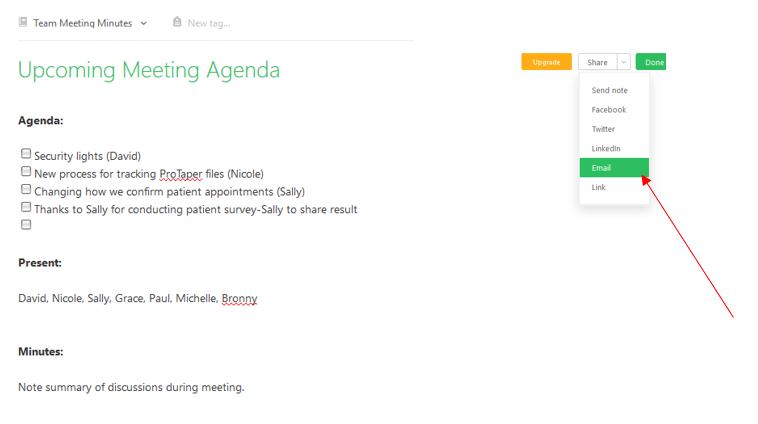 When a new material is introduced to the surgery, Evernote allows you to communicate with your team on its use and directions. Simply 'web-clip' the details from the manufacturer's website and email it to relevant team members.
There are many more benefits to Evernote than what I have outlined above. If you would like to discover more, go to their website HERE.
If you would like to find out more about the content JPPS has collated that can be immediately uploaded to your new Evernote profile, email me directly at julie@localhost.au. The price is $625 plus GST and includes:
Infection Control Guidelines as set out by the Australian Dental Association
Standard Operating Procedures as set out by ADA Victoria Branch
Examples of Standard Operating Procedures
Examples of Trainee Nurse Training notes with links
Examples of Governing Policies
Examples of Human Resources notes